Learn 4 different ways to touch. Hosted by Men In Touch, this is an evening workshop for men who like to touch men.
If you were offered the chance – right now – to touch, or be touched, in whatever way felt most exquisite to YOU, would you know what that truly was, and feel able to ask for it?
This workshop offers the chance to experience how it feels to choose – and get – exactly the touch you want. And also how it feels to willingly set aside your own desire in order to pleasure someone else.
You'll learn the essential elements of a tool for healthy interaction and intimacy, called the Wheel Of Consent®.
Consent literally means 'with feeling' – so touch is an ideal way to learn about navigating your own desires, and getting clarity about who that touch is for.
If you're new to Men In Touch it's a great introduction to gently and safely explore your relationship with touch. And it's also a great space for those more experienced in erotic touch to practice their skills with boundaries and clear intention.
---
"As men we sometimes lack the skills to communicate and negotiate with potential partners. Michael was able to guide people through this, helping us navigate … take risks in a safe space, and experimentally learn what works and what does not work for each of us"  Workshop participant, New Zealand
---
This workshop is open to new men and those with all levels of experience. The invitation will always be for you to choose for yourself how much, or little, to engage with touch, and what positions are most comfortable for you. This workshop is clothing optional (meaning that you can be naked or wear a t-shirt, underwear, sarong or similar).
Please note: this workshop is hosted by Men In Touch and is therefore men-only.
(booking opens February 8 2019)
When: 7-10pm Tuesday 5 March 2019
Where: Neal's Yard Meeting Rooms, 14 Neal's Yard, Covent Garden, London WC2H 9DP
Cost: £35 (first 15 places); £45 (remaining 10 places). Booking opens 8 February 2019
Click here to book
17 February 2019 – Findhorn, Scotland. A 'hands-on' 1-day introductory workshop, exploring the essentials of the Wheel Of Consent®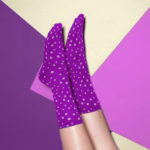 What's the connection between the socks you choose, and having better relationships? It's not what you might think…