Hosted by MenSexuality Brussels

Do you know what you want, what you really, really want…?
If you were offered the chance to be touched – right now – in whatever way feels most exquisite to YOU, would you know what that is, and be able to ask for it?
It sounds like an easy question but there are lots of reasons why many of us can find it hard to ask for what we REALLY want: "What if the other person thinks I'm weird?", "What if they say no??",  "What if they say yes, and then I don't like it?!"
And we often expect our partners to be telepathic when it comes to knowing what we want – but how can they give us what we truly desire if we only ask for something we think is 'safe'?
Working with a number of different partners throughout the session, you'll have the opportunity to choose – and then experience – touch in whatever way feels best for you, from hands to full body. And also how it can feel equally wonderful to willingly set aside your own desire in order to enable someone else's pleasure.
Based on the powerful 'Wheel Of Consent' tool, this guided session will be clothing-optional, and hands-on. You'll be gently guided through a process of tuning into what your body does, or doesn't want, practicing different ways to ask for it, and keeping things safe by making clear agreements about what will or won't happen.
At its heart consent is about choice – and there's nothing sexier than getting to choose what gives you most pleasure! Consent literally means 'with feeling' – so touch is an ideal way to learn about navigating your own desires, and getting clarity about who that touch is for.
---
"As men we sometimes lack the skills to communicate and negotiate with potential partners. Michael was able to guide people through this, helping us navigate … take risks in a safe space, and experimentally learn what works and what does not work for each of us"  Workshop participant, New Zealand
---
This workshop is open to new men and those with all levels of experience. The invitation will always be for you to choose for yourself how much, or little, to engage with touch, and what positions are most comfortable for you. This workshop is clothing optional (meaning that you can be naked or wear a t-shirt, underwear, sarong or similar).

When: 1700 – 2000 Saturday 1 June 2019
Where: Brussels, Belgium
Cost: 20 Euro
Booking: Opens on 18 May on MeetUp
25 May 2019, Manchester, UK – A 1-day workshop for LGBTQI+ folks. Breath and body awareness support experiencing each of the 4 quadrants using simple, clothed touch exercises, limited solely to the hand and fore-arm.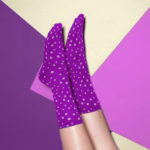 What's the connection between the socks you choose, and having better relationships? It's not what you might think…