How good are you at giving a gift with absolutely no strings attached? Think about the last time you gave a gift… be honest with yourself: were you giving it 100% altruistically? Or was there a tiny part of you that wanted some kind of recognition for your gift – perhaps approval for your effort, or even a wish to store up goodwill for the future?
Who is it for?
Particularly when it comes to touch – there can be confusion about our motives for doing something for another.
Often it's not so much 'giving them a gift', more 'giving them a hint': trying to communicate something we want them to do for us by disguising it as something we're doing 'for them', in the hope that they'll reciprocate.
By using the Wheel Of Consent the intention of the action of giving is made clearer by choosing the word 'Serve'.  If I am serving you, you are getting what you want.  Any pleasure I may get out of the exchange is purely incidental – the gift is for you, not me. Truly giving someone this kind of gift means learning to set aside your own desires in order to be fully of service to them.
Knowing what you want
Of course, this also means you need to be aware of what your own desire or need may be so that you can set it aside and serve cleanly. Otherwise you run the risk of taking under the guise of giving (learn more about Taking).
This kind of 'conditional helping' can lead to problems, as whatever we are offering may not actually be wanted by the other person. We may then feel offended if they refuse our offer, especially if they give no reason, or their reason is not one we consider valid (This video gives a comic but all too true take on how culturally unacceptable this can be).
Find out how you can work with me to learn more about it.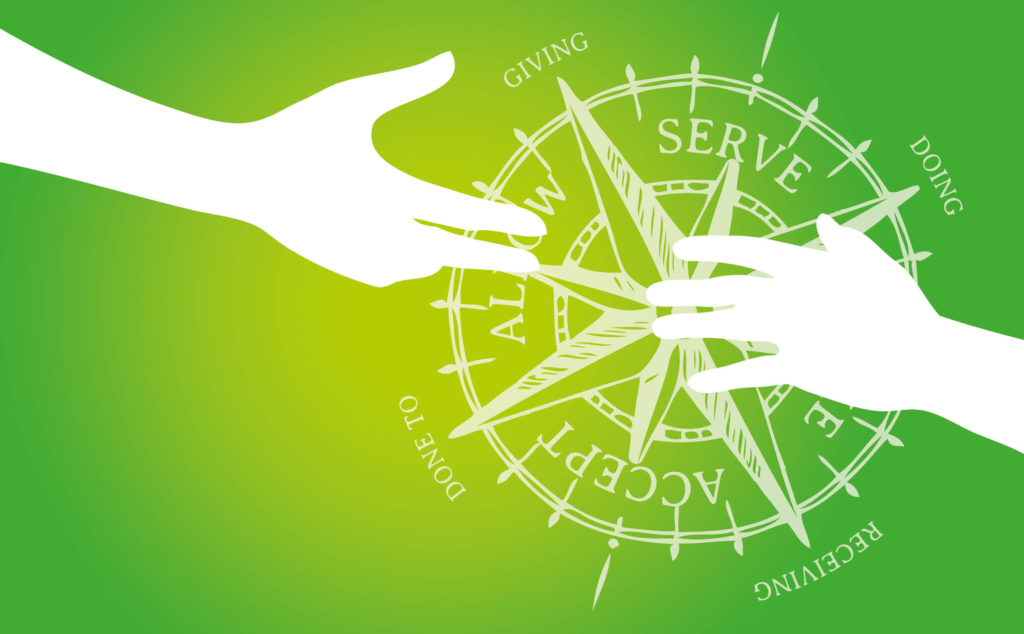 22 March, Edinburgh. This 1-day 'hands-on' introductory workshop teaches you the essentials of the Wheel Of Consent. Learn a new way to navigate connection, and bring a completely fresh approach to all your relationships.
Read More
The Wheel Of Consent is based around 4 quadrants: Take, Allow, Serve, and Accept. Each creates a different experience of interaction with others and teaches you something different about yourself.
Learn more about the quadrants and the wheel: